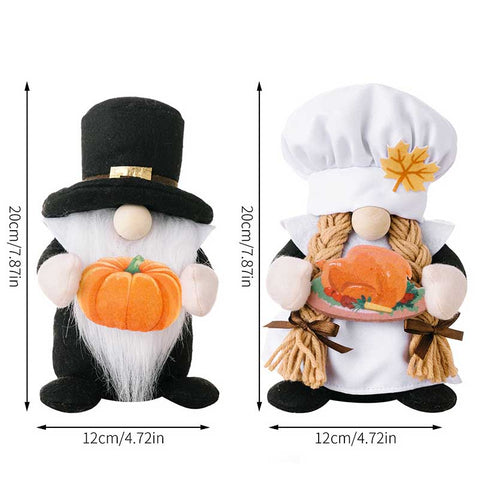 Thanksgiving Day Decor -- Gnomes, of all creatures, understand gratitude and thanksgiving. They are the perfect accessory for your Thanksgiving decorations, will certainly brighten your festive table.

Perfect Size -- These cute Thanksgiving pilgrim gnomes measure approximately 8.5-9.5 " tall and 4.5" in width. Each fall nisse has a weighted bottom so it is perfect for shelf sitting!

Pilgrims Gnomes -- Boy pilgrim gnomes in black and chocolate brown pilgrim brim hat holding pumpkin, and girl pilgrim gnomes in traditional bonnet, collar, and apron holding a plate of roast turkey.

Various Usage -- Everyone loves to display something fun for the Thanksgiving holiday season and this pilgrim tomte couple is perfect for shelf sitting, table top, mantle, fireplace and your tiered tray. A great fall Thanksgiving decoration for the house and an unforgettable gift for friends and family.