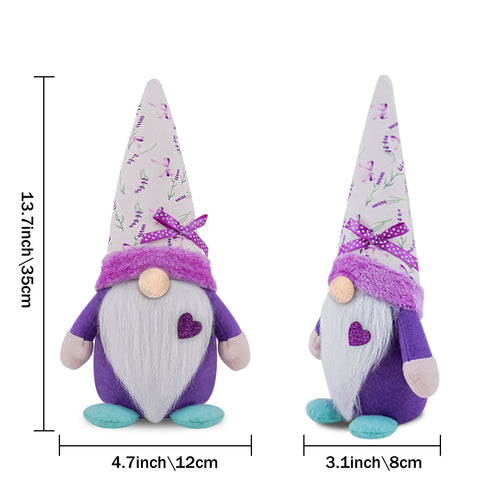 【Lavender Gnomes Decor 】The Adorable Mr. and Mrs. Lavender Gnomes Plush With Purple Color, lavender on Hat will catch your sight,Perfect for Spring and Summer Home Kitchen Decor.And Gnomes will bring us good luck, happiness, warmth and a little magical to your home.

【Ideal Holiday Gift】Lavender Gnomes Plush is an ideal gift for Valentine's Day, New Year and Spring Summer Holiday, Birthday,Anniversary gift . Unique gnomes design with Birght color,Vivid Lavender are simple but 100% match Lavender decor theme. The Charming design and colors will definitely win over any Gnome lover's heart!

【Premium Material & Handcrafted】The Spring Lavender Gnomes are made of plush and felt by professional artisans.The hat is made of premium Plush material with purple buffalo check, vivid lavenders, Purple Knot, environment friendly.

【Weighted Base & Poseable】 Each Lavender gnome has a built-in soft iron wire at the top pink hat. Easy to bend and Poseble. There is sand at the bottom to make sure the Valentine gnomes sit stably by themselves,not easy to tip over. And can be put on anywhere in the home. Fire place, mantle , kitchen, living room.

【Spring Decorations】The Bright Lavender Gnomes will be an ideal addition to Spring flower decor theme,New Year, Valentine,Spring Summer Home Kitchen decor.The lavender gnomes with with purple buffalo check, vivid lavenders, Purple Knot can easily make your main centerpiece of your Spring theme Decorations,Perfect for displaying on a table, shelf or mantel, fireplace. Unique and cute style will bring family happiness.